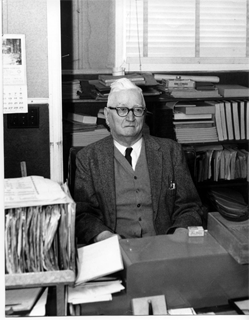 Robert M. Williams, a well-known Victoria businessman, conceived the idea for a health service for Lunenburg citizens and started the trust fund, which has supported it for 60 years.
The Lunenburg Health Service was organized in 1947 when Robert Miles Williams, a prominent Victoria businessman, announced his plans to donate funds for the establishment and maintenance of a public, non-profit health service facility. It was Williams' dream that all persons, regardless of their ability to pay, be eligible to receive proper healthcare and services when needed.  He did not want the health needs of anyone to be neglected because of their income.
Williams' dream grew out of a time of intense personal heartache and suffering. In 1940, at the height of his success, Williams was stricken with polio. He came close to death, was in an iron lung, and underwent extensive rehabilitation. For the rest of his life he was unable to walk without crutches and leg braces and could not use his left arm. In addition, his wife, Blanche Robinson Williams, one of Virginia's best and most widely known poets and the author of six books of verse, began to suffer from mental illness. Williams went from being healthy and in control to needing help for even the most basic tasks. He could no longer function without professional and personal help.
Dedication services were held in 1949 for the privately endowed public health service housed in a new brick building on Sixth Street in Victoria. It was given to the county under terms of a $200,000 foundation created by Williams. The project was cited as one of the first of its kind in the country. Not connected with the state and county health departments, the Lunenburg Health Service was to provide health services, care, and equipment beyond those available through the state and county health departments.
Since that time, Williams' dream has been achieved through a continuing and ambitious healthcare program. Coordinated through the county's physicians, the Lunenburg Health Service lends a helping hand to hundreds of Lunenburg's citizens.
LUNENBURG DAY MAY, 20 1949   –   Article with pictures from the formal dedication of the Health Service.  Governor William M. Tuck and Colgate W. Darden, Jr., President of the University of Virginia and former Governor of Virginia, were principal speakers at the dedication.  Distinguished guests in the public health field also addressed the audience.
 LUNENBURG HEALTH SERVICE NURSES 1948 to 2016